Wines for Every Occasion –
Palazzo 'Right Bank' Proprietary Red Wine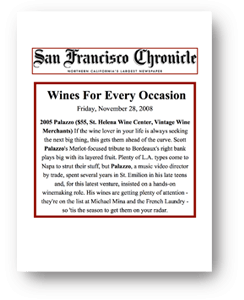 If the wine lover in your life is always seeking the next big thing, this gets them ahead of the curve. Scott Palazzo's Merlot-focused tribute to Bordeaux's Right Bank plays big with its layered fruit. Plenty of L.A. types come to Napa to strut their stuff, but Palazzo, a music video director by trade, spent years . . .
Sajjad Hossain Sagor November 27th, 2018
Posted In: